Pumpkin pie with a crunch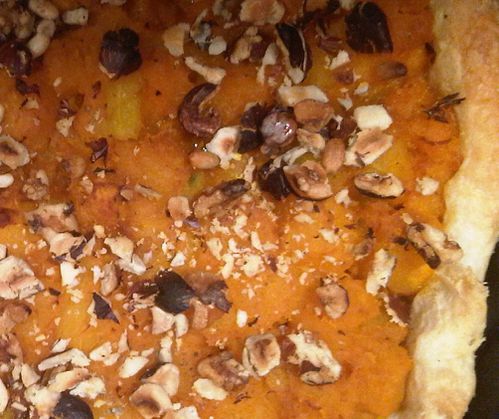 What to do with leftover pumpkin?
Roll out the pastry and smooth out into the bottom and up the sides of the tart tin.
Chop 1 onion and 2 small green chillies into fine slices.
Heat olive oil in a pan and add onion and chillies.
Wait until the onion becomes golden.
Cut 2 slices of bacon into small pieces and add to the pan.
Wait to cool down and spoon into the pastry.
Cut the pumpkin in small cubes (200g).
Cook in butter and olive oil with salt and pepper until it is ready to mash. Add some water if you see it is about to burn.
Let the pumpkin cool down and place on top of the bacon.
Crush 50g of hazel nuts and sprinkle on the top.
Add a last pinch of ground pepper.
Place in the oven at 180 degrees for 20 minutes.
Bon appetit!

Ingredients:
1 onion
2 small green chillies
1 pack of readymade puff pastry
2 slices of bacon
½ pumpkin
50g hazel nuts